✅District Recruitment Fair 🗓️Saturday, Feb. 4 📍Mid-Carolina High School - 377 Cy Shumpert Rd. Prosperity, SC 29127 ⏰9-11 a.m. 🥳Certified and Classified Openings 🤝All Schools and Departments Represented

✅District Recruitment Fair 🗓️Saturday, Feb. 4 📍Mid-Carolina High School - 377 Cy Shumpert Rd. Prosperity, SC 29127 ⏰9-11 a.m. 🥳Certified and Classified Openings 🤝All Schools and Departments Represented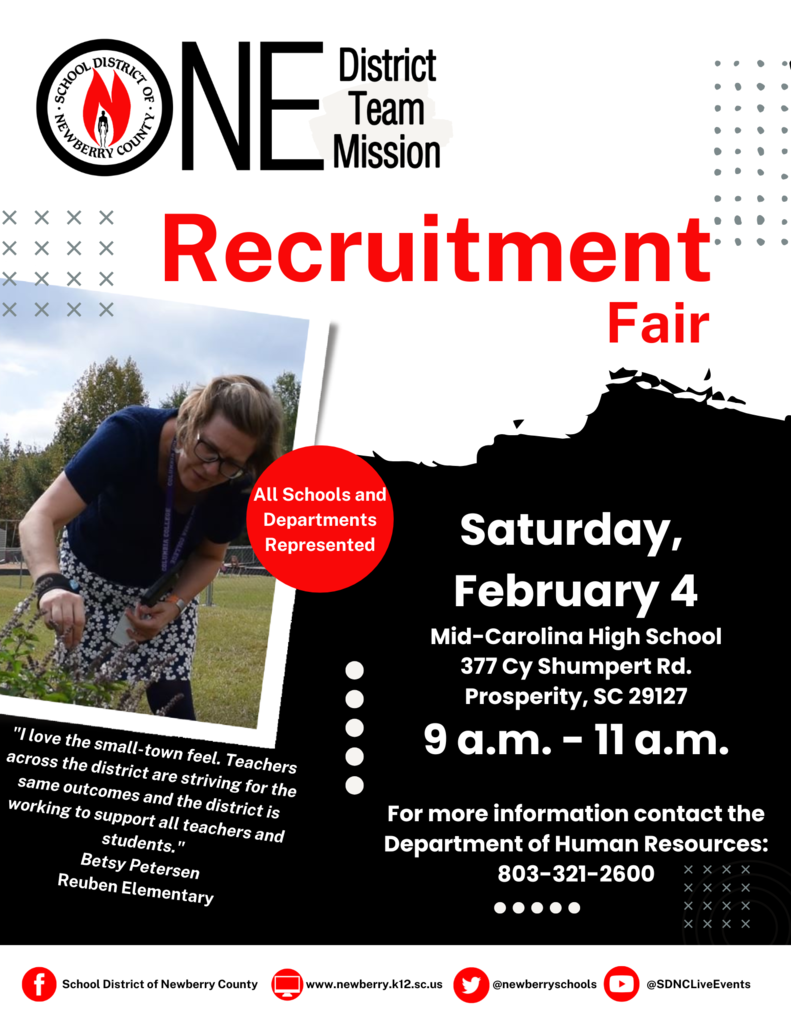 ✅District Recruitment Fair 🗓️Saturday, Feb. 4 📍Mid-Carolina High School - 377 Cy Shumpert Rd. Prosperity, SC 29127 ⏰9-11 a.m. 🥳Certified and Classified Openings 🤝All Schools and Departments Represented

✅District Recruitment Fair 🗓️Saturday, Feb. 4 📍Mid-Carolina High School - 377 Cy Shumpert Rd. Prosperity, SC 29127 ⏰9-11 a.m. 🥳Certified and Classified Openings 🤝All Schools and Departments Represented

✅District Recruitment Fair 🗓️Saturday, Feb. 4 📍Mid-Carolina High School - 377 Cy Shumpert Rd. Prosperity, SC 29127 ⏰9-11 a.m. 🥳Certified and Classified Openings 🤝All Schools and Departments Represented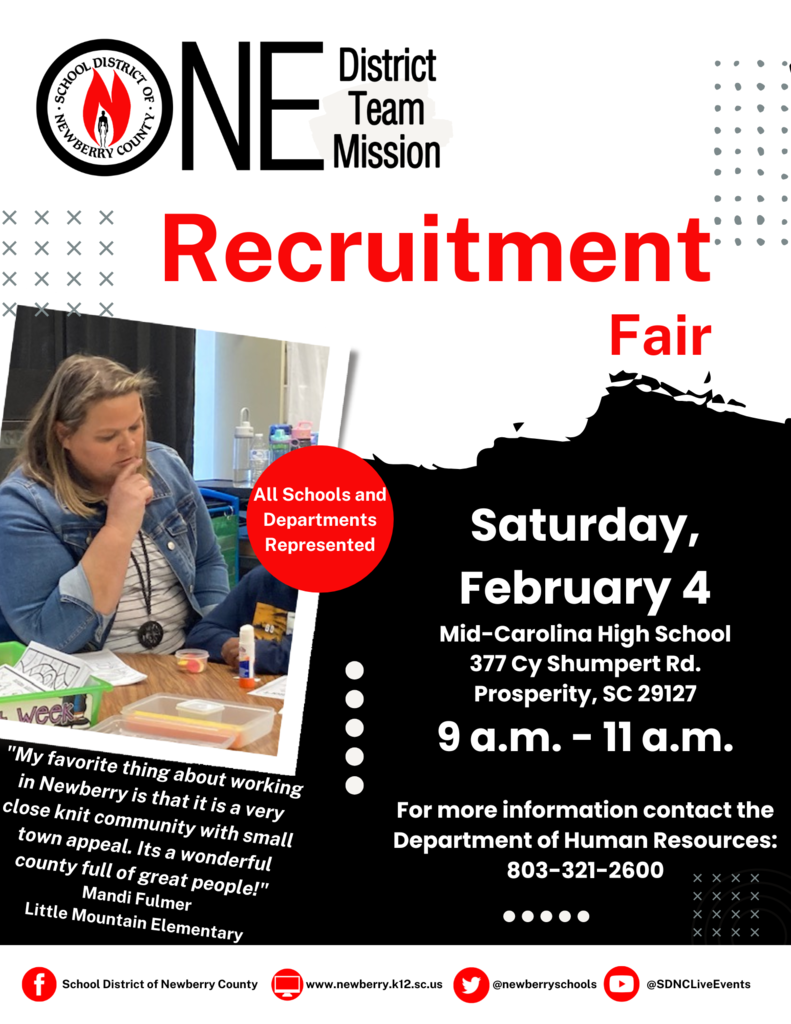 Recruitment Fair! Saturday, February 4 Mid-Carolina High School 9-11 a.m. Recruiting for all schools and departments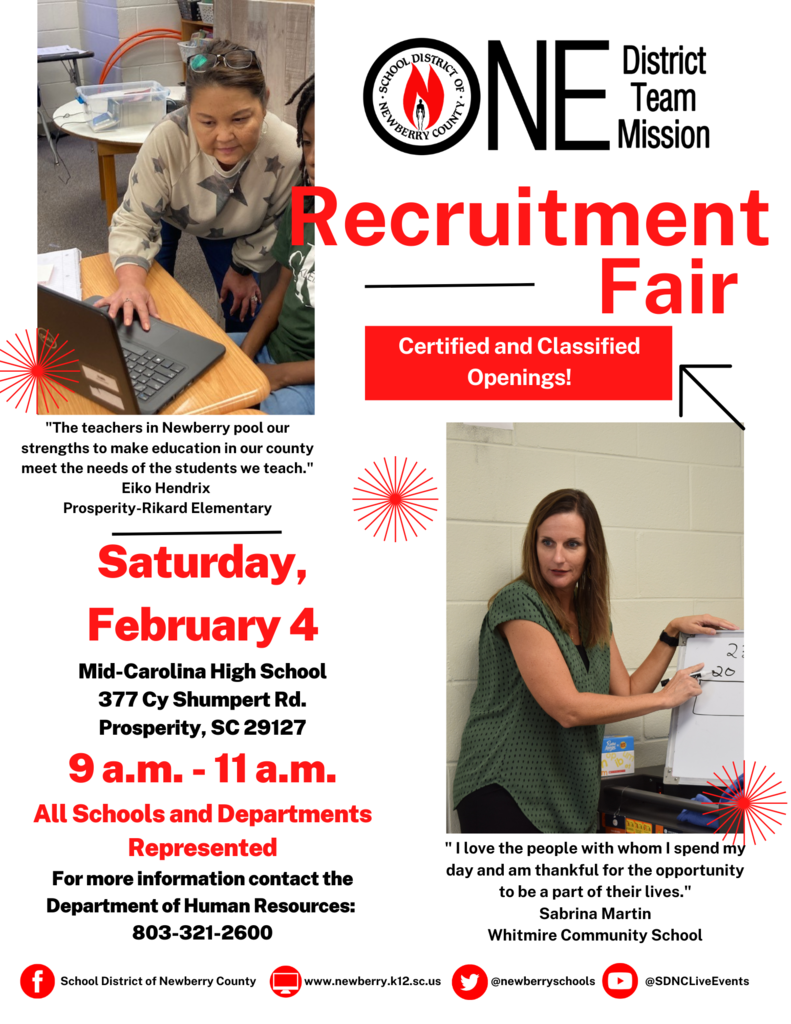 Nightly internet shutoff times affecting only school-issued, student devices. Please refer to the FAQ document for additional information.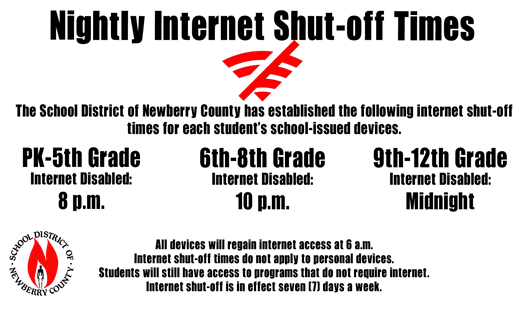 This week has been tiring for sure but it has been incredibly fulfilling! I couldn't be prouder of our PGE family and how much love I've seen shared between each other and especially to our children! Enjoy your weekend! You all deserve it! See some of your tomorrow. ;)

We have the back 5 rows of chairs saved for PGE for the opening session. For our cheer we will say "iiiiiits showtime!!" with spirit fingers/jazz hands. ;)

The School District of Newberry County is committed to ensuring the safety of its students, staff, and spectators at athletic events.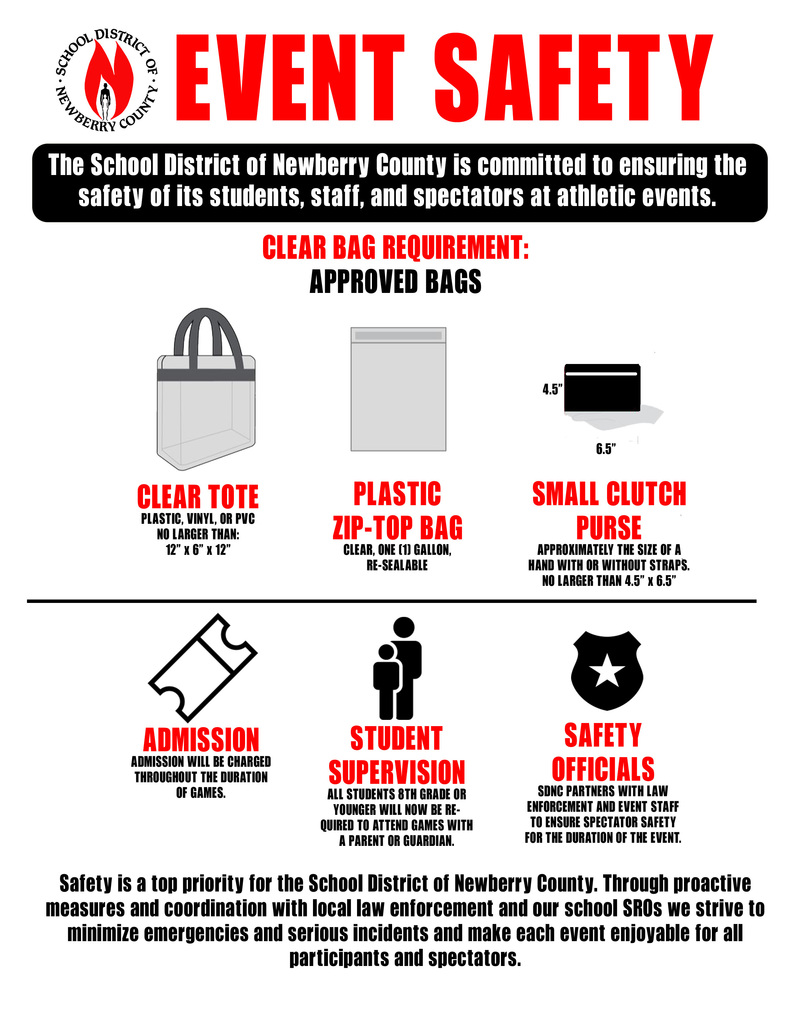 Encuesta Comunitaria de ESSER III El Distrito Escolar del Condado de Newberry necesita información sobre el gasto de la asignación de ARP - ESSER III. El SDNC recibió más de $ 15,2 millones para abordar la pérdida de aprendizaje y las necesidades académicas relacionadas con la pandemia de Covid19. Los fondos no se pueden utilizar para bonificaciones. El 11 de marzo de 2021, la Ley del Plan de Rescate Estadounidense (ARP) se convirtió en ley. El Departamento de Educación de los Estados Unidos está proporcionando $ 121,9 mil millones adicionales para el Fondo de Ayuda de Emergencia para Escuelas Primarias y Secundarias (Fondo ESSER III). Esta legislación otorgará estas subvenciones a las agencias educativas estatales (SEA) con el propósito de proporcionar a las agencias educativas locales (LEA) fondos de ayuda de emergencia para abordar el impacto que COVID-19 ha tenido y sigue teniendo en las escuelas primarias y secundarias de todo el país. la Nación. Por favor complete la siguiente encuesta:
https://docs.google.com/forms/d/e/1FAIpQLSe68t0vop3zRC4n7gkjzBg00beljT0orT04uS5Pwd1jEcTAEQ/viewform

South Carolina Department of Education Office of Early Learning and Literacy College and Career Ready Division Survey: Dear Parents and Childcare Providers, Parents and caretakers of young children and the professionals who work with families are experts on the supports and resources available in communities around South Carolina. It is our job as state leaders to listen to you all. The "Transitions from Pre-K to 5K" survey is from the interagency Palmetto Pre-K Transitions Workgroup, and we aim to learn more about what's available around our state to support families in the transition into 5-year-old Kindergarten. We would be incredibly grateful if you would share your thoughts. Please take a moment to complete a very brief survey (about 5 minutes) found here:
https://scfirststeps.surveymonkey.com/r/JMYM2J9
. If you have any questions about this survey, please contact Rachal Hatton-Moore, Two-Generation Coordinator, at
rhatton@scfirststeps.org
.

ESSER III Community Survey The School District of Newberry County needs input on the spending of the ARP - ESSER III allocation. The SDNC received over $15.2 million to address learning loss and academic needs related to the Covid19 pandemic. Funds cannot be used for bonuses. On March 11, 2021, the American Rescue Plan (ARP) Act was signed into law. The US Department of Education is providing an additional $121.9 billion for the Elementary and Secondary School Emergency Relief Fund (ESSER III Fund). This legislation will award these grants to state educational agencies (SEAs) for the purpose of providing local educational agencies (LEAs) with emergency relief funds to address the impact that COVID-19 has had, and continues to have, on elementary and secondary schools across the nation. Please complete the following survey:
https://docs.google.com/forms/d/e/1FAIpQLSei9tClMHrmiD75mx587EV1x2WJzU8P3QljYmghF9bB9aZ2KA/viewform
Please help your child come prepared for school each day.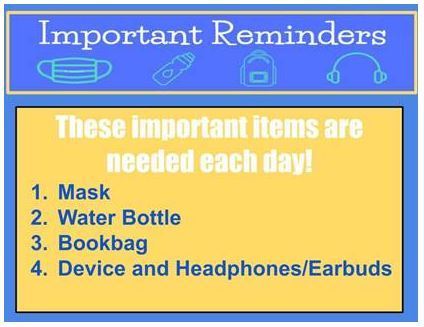 Last week of the Book Fair! 25% of sales goes right back into your school!
Don't forget to clip those Box Tops!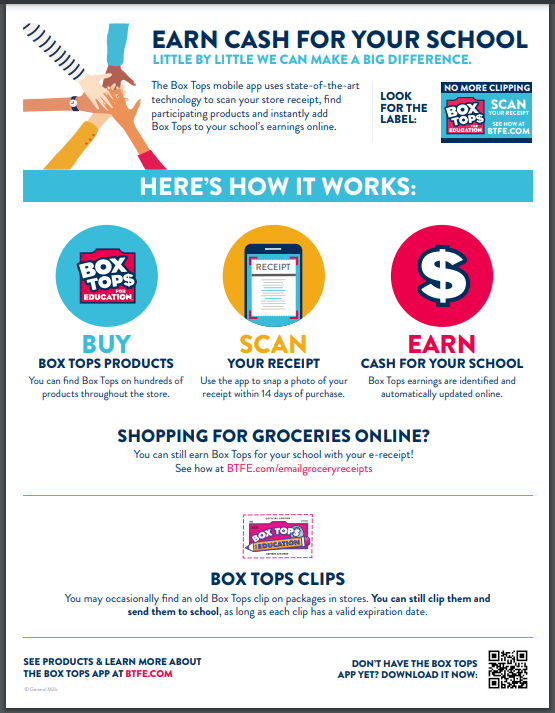 Want to be a Cub Scout? Check out the flyer for more information!

See flyer if interested.