A parent/guardian toolkit for reopening has been shared by our district and is linked below. This toolkit has been developed to provide information to parents/guardians to help you understand the health practices that will be put in place when students return to school. It will be important for all of us to work together to help decrease the spread of the virus. Review and revision of this document will be completed as new guidance is received.
https://drive.google.com/file/d/10dZXlXGf2tlT5-L18xZhLWj4F5kWNZle/view?usp=sharing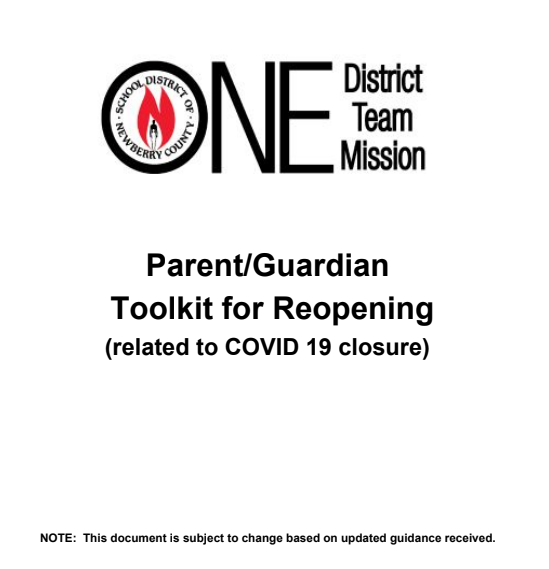 Parents of students in the School District of Newberry County are asked to complete one questionnaire per child to determine how they would like their child to return to school for the 2020-2021 school year. Option 1 allows parents the choice of sending their child to school on a Hybrid schedule – meeting in person 2 days per week and eLearning 3 days per week. Option 2 is for parents who wish to have their child participate in the Newberry ONE Institute for eLearning, a completely online option for a semester at a time. The questionnaire can be found at
https://bit.ly/SDNCLearningPref
and must be submitted prior to midnight on July 28, 2020.