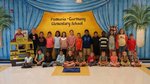 "You're the Driver"
Our PGE Teachers have selected students that exemplify Principle #1 "You're the Driver". Each teacher selected a student who displays respect, honesty, integrity, and trustworthiness. We will formally recognize these students at our first Pep Rally at the end of the month. The students are below.
Coach Long- Jacob Brown
Mr. Jamison- Carter LaCons
Mrs. Vinson- Cheyenne Lewis
Mrs. Boozer- Renee Downs
Mrs. Pelfrey- Jenna Senn
Ms. Livingston- Nora Cutler
Mrs. Surrett- Christian Simpson
Mrs. Pitts- Tyshon Nelson
Mrs. Branham- Paisley Wicker
Mrs. Carter- Brooklyn Lewis
Mrs. Bedenbaugh- Kinsley Branham
Mrs. Jacobs- Landon Lindler
Mrs. Mills- Raegan Lindler
Mrs. Stuck- Zaylaha Goree
Mrs. Whitesides- Easton Millstead
Mrs. Gallman- Nataly Gutierrez
Mrs. Brown- Dailene Sierra Fernandez
Mrs. Simpson- Banks Fellers
Ms. Tarver- Hannah Holbrook
Mrs. Cooper- Isaac Hernandez
Mrs. Russell- Tommie Leigh Bedenbaugh
Ms. Edwards- Kursten Long
Mr. Winningham- Uriel Santiago Garcia
Mrs. Thompson- Exavier Elkins
Mrs. Chapman- Brayden Brooks
Congratulations to these exceptional BUS DRIVERS!!!