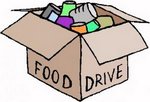 Food Drive
Related Files: Food_Drive-_Clemson-Carolina.pdf
We have the opportunity to participate with the "Season of Sharing" Program that involves a canned food drive for needy families in our area. Each year, Pomaria-Garmany is in competition with Little Mountain, Prosperity-Rikard, MCMSand MCHS for a fun competition to see which school can collect the most cans. The winner will be announced in December. PGE can win this year -- LET'S DO IT!!
We will be collecting canned goods for our local Pomaria Food Bank from November 5 – 30, 2018. STAR Patrol will come by each classroom every morning to pick up canned food beginning Wednesday, November 7th. We are having a friendly competition to see which set of football fans (Clemson & Carolina) can donate the most cans. Before bringing your cans to school, use a permanent marker and write a "C" for Clemson and "USC" on those for Carolina.
This is a great way to have some fun, but most importance of helping others. Thank you for your participation.