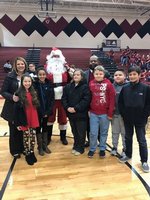 Season of Sharing
A special thanks to our school community for helping Pomaria-Garmany Elementary WIN the can food drive for the Mid-Carolina Area!!! This honor was announced at the MCHS Season of Sharing Ceremony. PGE brought in 1,491 cans to donate to the Pomaria Food Bank. Congratulations!
It's that time of year again for the Season of Sharing! PGE along with other schools in the Mid-Carolina area are collecting canned goods and non-perishable items. All items will be donated to our local Pomaria Food Bank. We will be collecting from November 5 – 30, 2018. Please check the expiration date before you send items. We cannot accept outdated food!
It's a friendly competition; Clemson vs. Carolina. Please have your child label their cans/non-perishable food items for the team they want to support (ex. USC or CU). Pomaria-Garmany Elementary School is also in competition with Little Mountain, Prosperity-Rikard, MCMS and MCHS for the most canned goods collected. We collected almost 1200 items last year. Our goal this year is 1400 items.