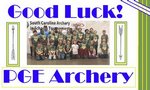 PGE Archery Team
Congratulations to the Pomaria Garmany Archery Team.
They competed in the SC State Archery Tournament in Sumter, S.C. and shot our team best 2876. They also competed in the IBO 3D tournament and finished fourth overall with a score of 1406. They have been able to raise their team score over 200 points since January.
We are super proud of Cole Graham for shooting his personal best with a 276. He finished second in the state in the boys division. Congratulations to the PGE Archery Team, Cole, and Coach Long!