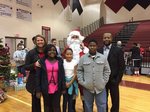 Season of Sharing 2017
Thank you to Mid-Carolina High School for inviting us to their annual "Season of Sharing" program this morning.
It was a special morning as all three feeder elementary schools and MCHS donated in combination over 5,000 items for the Pomaria Food Bank. Like Ms. Shelby said "if they are hungry, feed them". We thank our families for the over 1,100 items donated for our own food drive.
The MCHS Beta Club members adopted several of our angel tree kids and filled a car and a half with gifts. These students have truly "made" Christmas for several of our kids with their generous hearts.
We also enjoyed music by the Rebel Regiment and the MCHS chorus. #loveyourpassengers #generoushearts