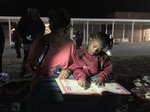 Reading and Writing Under the Stars
Thursday, November 30th was a fun-filled night with students and families enjoying reading and writing activities to promote literacy!
The theme this year was Reading and Writing Under the Stars! Many stations were held outside, but a few were inside with the room illuminated with a star light ceiling and lanterns!
Families also enjoyed a hot dog supper along with hot chocolate and a cookie as they rotated through the different literacy stations. Stations were a HUGE hit LOVED by the students and families of PGE!
Families participated in the following activities:
Reading Under the Stars: At this station families enjoyed reading a great book using a lantern, flashlight, or the moonlight! Families were in the intimate setting of hay bales and the night sky!
Graffiti Wall: At this station students could write or draw about their favorite book! Students are enjoying reading about different books on the sidewalk as they walk laps around the loop!
Face Painting: Students enjoyed choosing a fall design to have painted on their faces. They also received a tattoo to remind them to be readers!
Fishing for A Good Book: There were some amazing catches at this station! Here students fished for a book that they can take home and read for their monthly reading logs. Students' excitement was precious as they reeled in their catch!
Writing Under the Stars: Letter writing was also a BIG hit at Literacy Night! Students could write letters to friends, teachers, parents, and some even wrote to Santa! Parents could also write a letter to their child to be mailed through the school wide mailing system, PGE Tiger Mail. Students enjoy receiving their mail and reading these special notes!
Writing Walk Under the Stars: At this station students could win certain prizes that can help them during Writing Workshop! They enjoyed playing to win items such as unique erasers, pens, pencil grips, and mini notepads.
Family Photo Booth and Selfie Station: Families not only had the opportunity to read and write under the stars, they could also take a picture with a local star, C.J. Edwards, pitcher for the Chicago Cubs. He took the opportunity to snap pictures with families, and to write a letter to the students of PGE reminding them to set positive visions for themselves! He also encouraged them to read daily with the statement "READERS ARE LEADERS!" As you can see, Reading and Writing Under the Stars was a night enjoyed by ALL!!!