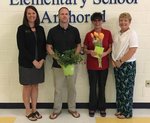 Mrs. Folk, Mr. Winningham, Mrs. Dominick, Mrs. Graham
Congratulations to…..
Our 2017-2018 Teacher of the Year- Mr. Paul Winningham
Our 2017-2018 Support Staff of the Year- Mrs. Sherry Dominick
We are so proud to have these two represent us. They are commended for their dedication to our school, staff, and students.